Captain: Ben O'Connor
Max Passengers: 22 people
Sleeps Overnight: 10 people
Boat Length: 52 ft
Fishing Type: All Types Saltwater
Air Conditioner: Yes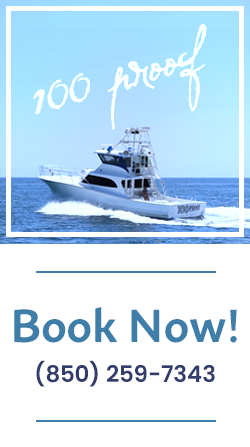 Destin Charters Info:
If you are looking for Destin Charters, you should call us. While most of our trips are 6-12 hours, they are not set in stone, and we do offer longer, overnight trips and specialty trips such as a shark fishing trip. It's our goal to provide you with the fishing trip of your dreams, and to keep you comfortable and having fun. If you are interested in different fishing trips than the ones that we list, please contact us. We are more than willing and happy to customize a fishing trip for your group. One of the best ways to contact us is through email. If you call and there is no answer, please leave a message as we could be out on the water and have little to no reception. We will return your call as soon as possible.
What Should You Bring on a Deep Sea Fishing Charter Trip?
While just about everything is provided on a deep sea fishing trip, there are some things that you should bring with to help make your trip that much more enjoyable. Some of the things that you should bring with you include:
Cooler with drinks
Cooler for your catch
Food (such as sandwiches and snack items)
Sunglasses and Hat (Your going to be in the sun most of the time)Sunscreen (Again, you will be out in the sun most of the time)
Camera
Some things that you need to leave at home include GPS devices and illegal drugs. If these are found, the trip will be cancelled immediately, without a refund.