Destin Deep Sea Fishing
One of the favorite activities of locals and visitors alike is getting out onto the fishing boats and spending a day on the water. Destin is a hot spot for fishermen of all types because of all the beautiful clear water, the HUGE fish, and the abundance of different types of fish to catch. Our customers have the chance to catch a trophy fish on any given day. Destin is a lucky location and a fantastic place to fish. We have it all here: proximity to deep water, great weather, and an incredible crew, helping keep families coming back to us and fishing with us year after year. Additionally, we change up our trips to coincide with the fishing seasons, as well as for weather. We know fish, and have been fishing this area for years. Because of the popularity of fishing charters in the local area, charters fill quickly. Make sure to book early to ensure that you will be able to go out on a fishing charter before you get to the beach.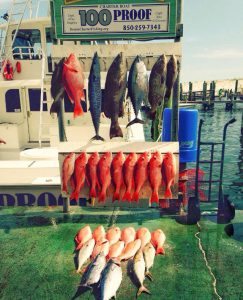 Here are some of our Destin Deep Sea Fishing Options:
We look forward to hearing those famous words "Fish On". See ya soon.
Deep Sea Fishing Destin Videos: