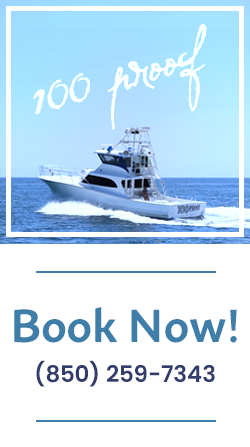 All fishing rates based on up to 6 passengers, and all prices are subject to change due to changes in fuel prices. Please call us for current rates/pricing for your charter fishing trip here in Destin!
6 hours $2,100.00
8 hrs $2,800.00
10 hrs $3,500.00
12 hours $4,200.00
14 hours $4,900.00
Please call for longer trips, such as one of our 24 hour, 36 hour, and up to 72-hour trips.
We accept all forms of payment, including cash, check, and credit cards, although there is a 3% charge on all credit card purchases.
What you get: Everything you need to fish, including permits and licenses, rods and reels, bait, tackle, and ice. You also get a deckhand that will help you throughout your entire fishing trip. The deckhand will help you get fishing, and keep you fishing by keeping up (and repairing) rods and reels, baiting hooks, de-hooking fish, putting fish caught on ice, and more. Once back to dock, they will pull all the fish, hang them for photos, clean them, put them on ice, and bag the catch.
There is a $500 minimum deposit required in order to hold your reservation. This amount is non-refundable, except when the trip is cancelled by the captain due to inclement weather. The captain is the final call for all trips, and reserves the right to cancel any trip due to bad weather.
Please note: prices listed above are base prices for six passengers or less. There is a 10% fee for each additional passenger over six. Please call with any questions about our rates for your charter fishing trip in Destin, FL!