Fishing is one of the most popular hobbies in America. However, if you aren't skilled in the craft of fishing – yet live with a one who is– it can be a challenge to find the perfect gift that will bring as big a gleam to his or her eye as a trophy catch. It's not like you can simply stop and pick up a new rod or reel. Sport anglers are notably picky about their choice of tackle. Short of sacrificing the surprise factor and asking them to come along shopping, we can feel there aren't many options out there. If you're struggling for a solution, here are a few ideas to make this Christmas speak to the heart of a fisherman.
Pack the Perfect Anglers Gift Basket for Under $100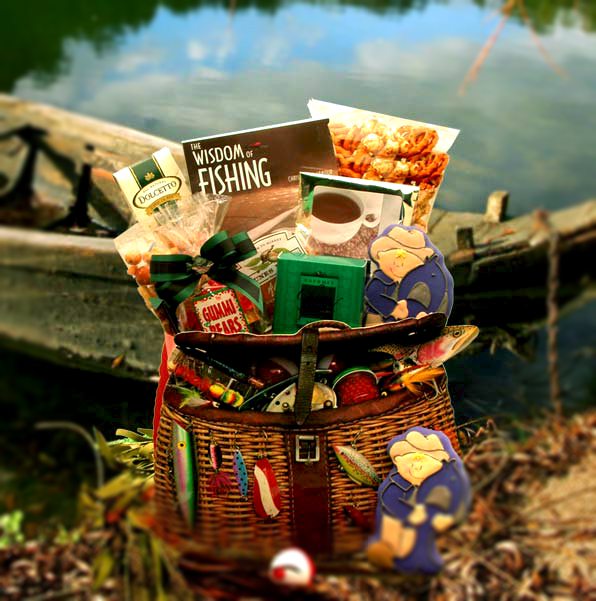 Consider a good fillet knife. Every fisherman needs one. Amazon offers the Woody Fillet Knife that can be personalized with one line of up to fifteen characters. The razor-sharp knife is stainless steel with a solid wood handle. Amazon has it listed around $45. While you're at it, consider making it a set. You can purchase a Berkley Fillet Board for another $13. This fillet board comes with a built-in ruler. Rapala® offers a pair of fillet gloves in a comfy blend of natural and synthetic fibers with stainless steel to provide great protection for around $20.
If your angler likes to grill, complete the theme with a recipe book. Barbeque and grilling pros Karen Adler and Judith Fertig have compiled a cookbook with 300 recipes for grilled and smoked fish and shellfish. Included are recipes for amberjack, smoked trout, grilled tuna, and more. It also provides chapters filled with marinades, rubs, and sauces to top "Today's Catch". The paperback version costs around $14. If the fisherman in your household doesn't grill but prefers to pan- or deep-fry his or her catch, another great idea is the Better Breader from Bass Pro Shops. This $15 device makes batter-coating and entire fryer-load of fillets effortless in one shake. This tool provides a removable sifter to prevent clumping by keeping the fillets out of the dry mix. Add either of these to the items above, and you can create a gift for anglers under $100.
Opt for Great Essentials
A big part of sport fishing is the lure of "the big one" and the story that can be told afterwards. How about buying an avid fisherman a great digital or dial scale? Cabela offers a digital mini-scale for around $10, ranking it high as a stocking stuffer. Rapala® has a new group of touch-screen scales. These scales offering the convenience of touch-screen technology also track total catch weight and weights of individual fish. Plus they have an air-temperature sensor. The larger 50-lb model is accurate to within 4 ounces. If your angler competes in tournaments, the 15-lb model is accurate to within 1 ounce and has an 8-piece culling system to more easily identify and sort fish caught. Either model prices out around $50. If the fisherman on your list isn't great at remembering AA batteries, you might want to opt for Cabela's dial scale. No batteries needed. However, since this is a dial scale rather than a digital one, it is larger in size, coming in around 7" in diameter. This scale is designed for both fishermen and hunters, so it will more than handle the "big one" up to 550 pounds in size.
Forget the hard shell tackle box our grandpas used. Today tackle bags have taken the place of boxes. Cabela offers an Advanced Anglers Pro Series of tackle bags that offer a variety of styles ranging in price from a small, compact option priced around $35 on up to the super magnum bag at $120. The small is equipped with four Plano ProLatch® adjustable utility boxes, a pliers holder, map pocket and six outside pockets. If the fisherman on your list is just beginning in the sport, this is an excellent choice. It also makes an affordable purchase if you draw an angler's name in a gift exchange. The super magnum style is about three times the size of the small. It offers 12 adjustable utility boxes and separate storage pocket locations (one in front and two on the side).
It is made with storm proof outside pockets to safely hold electronics. Because of their water-resistant 600-denier fabric construction, they offer much more storage with less weight.
If the fisherman on your list prefers on-the-go mobility without having to tote a tackle bag along, you might consider buying him or her an Advanced Anglers Waist Pack from Cabela. This waist pack just went through a re-design in 2013 to give the greatest mobility possible. Constructed of durable 900-denier reinforced nylon, this pack offers water-resistant rip-free performance. A number of inside and outside pockets provide plenty of gear storage in a compact space. An expandable stash pocket on the bottom of the bag lets you pack more when needed. It also includes a fleece-lined pocket for sunglasses and cell phone. All this for less than $50.
Latest Testimonials
Please config your Portfolio Category ID from admin theme options.